Hello there PlayStation 3 & GT5 owner/future owner (because if you don't buy one in the future, this page will self destruct your computer or whatever device you are using to view this).

You have 364 days remaining...

When GT5 first came out, people bought it. I know, because i did too. Surely i wasn't the only one? What they discovered when they bought it was that it wasn't an urban legend, and was in fact real - despite some people thinking otherwise due to the delays it had. But to others, these delays just seemed like an opportunity to get a better, more reliable game.

The PS3's third GT game had a special ability that non PS3 GT's have lacked - the opportunity for Polyphony Digital to fix bugs, add new features, improve loading times (somewhat) and add new cars and tracks via online downloads/updates and PS Store purchases. This magic ability gave the game a muchly extended lifespan over previous titles, kinda like using a defibrula, difibbulat, defibyou..... that machine thing that plugs people into the electricity network to get their heart going again. Numerous things were done, which i'll speak about later, so be patient.

You have 358 days remaining...

It also boasted the biggest amount of cars ever in a videogame (over 1,100) as noted by the Guinness World Records online, beating its main competition, the previous holder of the title, Gran Turismo 4. Bitter rivals they were. Well. Actually. GT5 just completely stomped all over GT4 when it was already down... But nevertheless or neverthemore and neverthesameamount, it doesn't matter in the end. All that matters is us, the players. We don't get played, the games do. Playaz Y0!

Yet again, the physics of the game had been changed and improved from the previous title, making them the best in the series at the time. They helped make drifting the cars a lot of fun, but that was also helped by the massive amount of tyre smoke that could be generated, more than other games (even smoke simulators) could manage. The smoke even drifted away with the invisible wind and sometimes it easily swallows up entire cars and spits them out later on. Ew, icky.

Other firsts for the series were tyre marks on the track after sliding/donuts/tyredness, 16 player online racing/drifting/ramming each other/parking up on the side of the track watching other racers/top speed runs/'real' driving (sticking to lanes, speed limits etc), working windscreen wipers on rainy tracks, working headlights with high beam and low beam, horns so that you can beep at slower cars or your mate standing on the side of the virtual race track ( o_O ), car damage (cars literally fly into twenty million bits, even if its only physically possible for it to blow into 19.5 million bits - that didn't make it into the game sadly, but some cars you can rip doors and bumpers off after 'only' a half hour or more of smashing into things!), a peanut butter mode where you can smother it on a variety of objects, and of course a fully detailed in car view is available on certain cars.

Like some other games, it also introduced an XP leveling up system which meant that you had to wait until you were at the maximum level, 40, until you could do the Nurburgring 24h race which is why 98.34% of people bought the game in the first place (maybe - i actually just made up that figure). Photomode returns, as do the special events with the infamous Vettel Challenge being in all honesty probably one of the hardest ever events in Gran Turismo history (i ended up saving my game online with PlayStation Plus, then giving a guy in Europe my PSN details, he completed the event for me, i took over my account again, downloaded the save and got the trophy/won the event - DON'T CREATE SUCH A HARD RACE AGAIN POLYPHONY!). Thousands of people around the world struggled with this event to the point where they just gave up and cried and threw the game disk into the washing machine to try get a clean lap...

Too much to explain, so little room. I should get a bigger house.

Finally even though i've probably missed heaps of things - like the fact that you paint cars with paint chips now (off other cars/gifts for logging in online each day etc), and like how race modification has returned for some cars, and how you can make your own tracks via a track generator with a variety of settings and environments to choose from, and how you can get PSN trophies for playing this game, and how Polyphony constantly created and uploaded online racing/time trial/drifting events ('seasonal events') available to those with internet access, and that you can change the appearance of your 'driver' with new helmets and suits etc which you get as prizes and free gifts, plus other things - it's about all we have time for folks. Be sure to come back next week when this page will not have changed a bit! See you then!

You have 331 days remaining...
| | | |
| --- | --- | --- |
| | RACES | |
Copying GT4's idea somewhat, GT5 returns B-Spec mode to our GT gaming lives but as a separate entity, mimicking the A-spec races pretty much. Which means, yes, you still have to do the real time 24h races in LeMans/Circuit de la Sarthe, and on the Nurburgring Nordschliefe. Plus the nine hour race around Tsukuba with modified street cars/tuner cars, the 1000km's of Suzuka with the Japan GT Championship cars (JGTC) and all the rest. The game won't do your work for you anymore you lazy person you. I did it too, don't worry.
A lot of the races from previous GT's return to a degree, with the addition of events for new cars to the series, like the 'Lamborghini Exclusive' event. And the Invisible Porsche Championship series (where you actually drive a non-Porsche but pretend that you are driving a Porsche - if you pretend good enough then you might get a real in game Porsche, which isn't real and just a RuF).
You have 318 days remaining...
Polyphony's 'cheating' AI sadly still appears and sometimes means you can't get an accurate comparison of car capabilities since it either slows down to wait for you or speeds up to catch you. At least let this be an option PD! Some of us would like to race our Citroen 2CV against high spec race cars and not beat them! Well, not that we can at the moment, but it's pretty close usually. They generally only lap you once or twice a lap, so there's not all that much in it.
As i mentioned on another website, or possibly in the section above, the development team also regularly update the online Seasonal Events section which are a great way to get extra money and race suits/helmets and so on. You pretty much have the usual gold, silver, bronze and areyoureallytrying? trophies to get, but since the events are online as well you get to try beat the fastest times in the world. If you've bet every single one then you've either cheated or installed a hypothermatical progressolimitationataler onto your car (a side modification to the flux capacitor).
And you've also got remote racing. Despite it sounding like you can race PS3 controllers vs TV remote controls, and garage door remotes, that isn't the case. It isn't far off though. It basically allows you to level up your maximum of six b-spec drivers (you can select a name from hundreds to choose from, what they look like and how often they take toilet stops during races, from none to three times a lap) by putting them in online races vs. other peoples's's b-spec drivers around the world. Then you can laugh at how many mistakes they keep making when they are still learning. And if you overuse them past the peak of their career, they will pretty much give up driving and read the paper while having their morning coffee in the afternoon and get you so frustrated that you fire them and hire new blood. And a driver to use that blood.
| | | |
| --- | --- | --- |
| | VIEWS | |
You have 288 days remaining...
GT5 boasts more views than you can shake a sand dune with. It has the traditional bumper view, complete with motion sicknessnessness shaking. The bonnet view, which on some cars is actually a roof view, and other cars it is so far away from the bonnet that you might as well be in a different country.
There's of course the behind car view so that you can admire the scenery, and the car, and then realise later on that you left the track ten minutes ago and have been stuck against a wall revving the life out of the engine.
And, new to the series (main games), is the in car view. Only available initially on the 200+ 'premium' model cars (basically the ones that have taken six months each to design, instead of a much shorter time copy and pasting it from GT4) they eventually enabled it on pretty much all cars, but the standard GT4 ported cars only had black interiors with the faint outline of a steering wheel and fluffy ducks (all out of dice) hanging from the rear view mirror. The premium cars however usually had working speedometers, sometimes working clocks, high beam on or off lights, working tv sets where you could watch your favourite shows (this was planned by the GTSC, but never implemented into the game) and so on.
You have 270 days remaining...
You could even look left or right on certain views (depending on your controller configuration) so that you can look out the side mirrors to fix your hair and put makeup on.
| | | |
| --- | --- | --- |
| | ONLINE/DLC | |
With this being the first proper GT game playable online (aside from GT5 Prologue) naturally this section on this page is warranted. So there.
Not sure what to say about it though.
Well for starters, you can create custom lobbies wherein you dictate all the rules to your minions. Also known as other players. You choose the track, the lap number, the time of day and weather (on certain tracks), whether the time and weather changes or stays the same (certain tracks again - try to keep up please), what class of cars can enter or how performancy the cars are allowed to be, what type of room it is (race for fun, race for real, drift or free run), how many crunchy foods people are allowed to eat before they get kicked from the room for noise disturbance, and other settings that you'll see when you go online yourself after being disappointed with the GTSC's description.
You have 256 days remaining...
You have 263 days remaining...
Sorry, i mean 253...
Or you can just join other peoples rooms and race anyone from anywhere in the world, unless they don't have GT5.
The great thing about this game is that because you can go online with it, it also means the game can receive updates/new features etc as discussed earlier, but also new cars and tracks (usually which require a small payment - of real money, not in game credits or Monopoly money or even that chocolate money that you got last Christmas).
A number of cars and tracks were released for free, like the new C7 Chevrolet Corvette (first game in the world to have it), Scion FR-S and others. A paint pack, racing gear pack, racecar pack and track pack were the first to release and then later on two more car packs and two track packs and two blackmackbackstackjackcrackflackhackpacks were released. The latter was so expensive only four people ever purchased it.
But we finally got Spa Francorchamps in GT in one of these DLC's's's and it was worth the weight. I mean wait. Probably both really.
You have 223 days remaining...
Plus a few more cars etc were given out as freebies, because Polyphony Digital loves us and we love them. <3 That's a loveheart by the way, not an icecream so don't lick your screen. ... Okay, don't lick your screen a seco/thir/fo/STOP LICKING IT!!
| | | |
| --- | --- | --- |
| | CARS | |
If you think i'm going to talk about the cars in GT5 in this section, then you'd be right. Well done. I will award you ten points. If you answer this simple question. How many cars are NOT in Gran Turismo 5?
There always seems to be an absolute barrage of complaining complainers who complain about all the Skylines in Gran Turismo. They obviously don't realise that if there were no Skylines in the game then everything beyond and above the border of the track you're racing on will be blank since the Skyline doesn't exist. That's hardly going to add to the realism of the game now, is it?
You have 207 days remaining...
It is quite a new experience to be able to download and/or purchase cars for a GT game from the internet, but a very welcome feature too since the game gave us new cars like the Black Edition Nissan GT-R, the Lamborghini Aventador, 1960's Volkswagen Beetle and more. Hmm, old new cars too then.
With Ferrari, Lamborghini, Maserati and Bugatti finally showing their faces in a console GT game (Ferrari, Lambo and Bugatti all showed up in GT PSP first, because the cars hadn't grown up to full size yet) it leaves only one major manufacturer of awesome cars missing from the series. And i think you have a fair idea of which one i'm talking about. They make some cars that some people really like. And it starts with the letter P and has seven letters in the name... If you haven't guessed by now, it is obviously Packard!
Huh? You thought it was Porsche? I can see the similarities, but honestly - who'd really want Porsche in GT? I mean, they are in so many other games already. And they make fast, sporty, nice looking cars mostly. A Packard could beat a parked up Porsche around a track any day of the week, i guarantee it.
You have 139 days remaining...
Below i've listed not even a quarter of the cars in GT5, but hopefully it gives you a teaser since you obviously haven't visited the GT5 car list yet. When i say obviously, i'm just assuming. When i say assuming, i'm just wildly guessing. When i say wildly guessing, i mean i really have no idea. When i say i really have no idea, i don't.
- Alfa Romeo 147 TI 2.0 Twin Spark '06
- Aston Martin V12 Vantage '10
- Bugatti Veyron 16.4 '09
- Chevrolet Corvette C6 ZR-1 '09
- Ferrari 458 Italia '09
- HKS CT230R '08
- Isuzu 4200R Concept '89
- Maserati GranTurismo S '08
- Mercedes-Benz 300SL Coupe '54
- Mitsubishi Legnum VR-4 Type V '98
- Nissan Skyline R30 Hard Top 2000 RS-X Turbo C '84
- Peugeot 207 GTI '07
- Renault Clio Renault Sport V6 Phase 2 '03
- Suzuki Escudo Dirt Trial Car '98 [race car]
- Toyota Camry #83 Brian Vickers NASCAR Red Bull '10 [race car]
- Volkswagen Karmann Ghia Coupe (Type-1) '68
You have 113 days remaining...
I'm lazy, so if you want to see the rest of the cars, i put them on another page. Which is here. This link just brings you back to the page you're looking at right now.
| | | |
| --- | --- | --- |
| | TRACKS | |
GT5's track selection was the best track selection ever in Gran Turismo 5. Because they are one and the same of course.
You have 87 days remaining...
Real tracks like Fuji, Suzuka, Tsukuba, and Laguna Seca join forces with fake ones made by PD like Grand Valley, Trial Mountain and Deep Forest, and they all team up against fake tracks in real locations like Tokyo R246, London, Eiger Nordwand etc and every single one of them goes and gangs up on all the returning to GT tracks like Twin Ring Motegi (DLC), Rome (different configuration) etc which all hassle the absolute life out of the new to GT tracks, like Daytona, Indianapolis, The Top Gear Test track, Spa, Cape Ring (made up), Special Stage Route 7 and so on, and it all culminates in a huge finale which will be shown live next Tuesday on CBS at 11pm. Don't miss it.
You have 45 days remaining...
One of the best experiences in GT5 undoubtedly (although i'm a bit doubtful of it) are the transitional atmosphere effects on certain tracks. A few tracks (High Speed Ring, Spa Francorchamps, Suzuka etc) have wet or dry options (rain stops and starts at will), a few have real time transition to day or night (Special Stage Route X, Nurburgring Nordschleife etc) and Circuit de la Sarthe and the Nurburgring 24h tracks have full day/night lighting and changeable weather effects (in free run/online you can adjust how often it rains, how quickly a day goes by, what sort of natural disaster like volcano/tsunami/locust attack you want to hit the track and at what force etc) which is actually pretty freaking cool.
You have 20 days remaining...
I personally love setting the day night cycle on the Nurb to close to its quickest setting and then turn off every single thing on the race screen (speedometer, track map, lap times, position, vehicle parts still remaining on the car etc) and just pretend i'm really driving around it (using in car view too - bumper view i'd be getting run over, bonnet view holding on, and 3rd person view i'd be running after the car).
My fave time of day at the track is early morning when the headlights still need to be used, but its light enough to see the sun preparing to rise. Really is nothing else like it in gaming, apart from hamburgers. Hamburgers? Was that a typo? Probably not, knowing this site.
The other great thing is the rain. Using the Ring as an example again (cos i love that track so much *muah*!) if say you're doing a race in 100% wet track conditions with pouring down rain, eventually it will stop (depending on settings you choose) and then the track will slowly start to dry out, and you'll notice less and less water spraying up behind you, then later you'll start hearing tyre screeching sounds, then start seeing skidmarks (on the track) when the water is mostly/all gone. It can take quite a while to get to 0% track surface water, but just the fact that it happens is awesome.
You have 7 days remaining...
Cos then you can hang out your washing.
You have 4 days remaining...
And maybe do a bit of gardening.
You have 1 1/2 days remaining...
And perhaps walk your dog. Or cat, if you're that way inclined.
You have 23 hours remaining...
But most likely the cat will refuse to be walked.
You have 14 hours remaining...
In fact, you'll probably get stuck up a tree with it.
You have 3 hours remaining...
Wouldn't that be embarrassing! Haha.
You have eight minutes remaining...
At least it'll be something to tell your grandkids.
You have twelve seconds remaining...
Like about the time you didn't purchase a PS3 and GT5 in time and your computer blew up.
Time expired. "Say goodbye to your little friend!"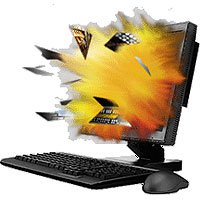 (kaboom)