Well, well, well Fred. Guess they still haven't fixed this problem since Gran Turismo 3. In fact it seems easier now as i broke out with a stock RUF BTR2! Not sure if the other break out point from GT3 can still be used, but the one that can is listed below. Since this page is quite empty, i've you've broken out of this track in a different place or another track altogether then please let me know what track and with what car and whereabouts. I'll then try it and if it works it will be put on this page (with thanks to you of course even if you copied it from another website - how am i to know where you discovered it unless you tell me, but then i might just 'accidentally' forget?).

Unlike in GT2 and GT3, you can now cross the track by driving under it (in the other games it always bought you back onto the track)! So effectively there only needs to be one break out point. But more than one is good as that means i can add more photos and info on this page, and then everyone wins. :)

There won't be a page like this for Gran Turismo 5. Although clever people (unlike me - wait, did i just put myself down?) have broken out of the track on numerous tracks in the game, the game is quite online based, so Polyphony keep updating it with patches which remove the ability to break out of tracks! Come on PD, let us have some fun! Its a great escape from reality since normally you can't drive through buildings and hills without the use of some sort of superhero ability. Like magnet vision (everything you see you get attracted to).

Recommended cars: RUF BTR2, AC Cobra and perhaps a few other cars? Like a Daihatsu Midget? Model T Ford?
Recommended mode: Race meeting (track day)
| | | |
| --- | --- | --- |
| | MONACO | |
First break out point
1. When you get to the tunnel, floor the accelerator and do not brake at all. If the accelerator pedal falls through the floor, go Flintstone style and let your feet do the motoring.
2. When approaching the sharp left hand turn, while going down the hill after the tunnel, have your car 'grazing' along the wall on the right.
3. You'll now be aimed at the corner of the tire wall after the back straight. If its facing the other way then clearly you've spun out or are in reverse.
4. Once you hit it you should get through to the inside of the track but if not then try with more speed/accuracy or a different car.
The microscopically small photos below have accompanying text that states the obvious.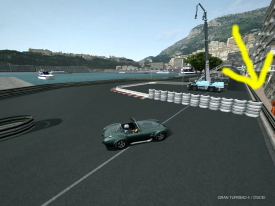 Where to break out.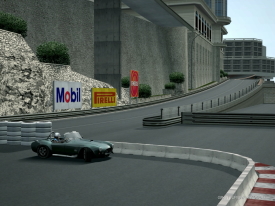 On the other side of the wall.
Swimming pool.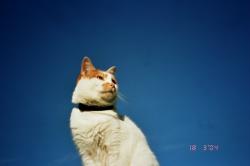 Cat (may not be in the game)
/end. Never managed to break out of any other tracks. Perhaps i didn't try, but you'll never know for sure. And since you don't know i can't possibly know either, since i forgot.